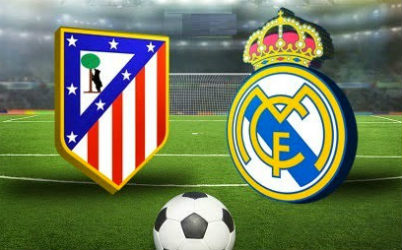 Free live streams!
This week bet365 Live Streaming service are proud to bring you some fantastic selections of heavyweight football fixtures including the Madrid Derby and the Capital One Cup Final.
Let's begin in the Spanish capital…
Real Madrid vs Atletico Madrid live streaming
Real vs Atletico: watch & bet live here >>
Having only won once with 4 draws and 4 defeats in their last 9 Madrid Derby encounters, Real Madrid seem to have a disadvantage to their city rivals Atlético.
However, Los Blancos (3rd) are still favourites to take all 3 points at the Santiago Bernabéu and replace Atlético (2nd) in the league table – according to bet365's latest price at 17/20(1.85).
Some recent stats have suggested that the club legend and current manager Zinedine Zidane isn't better than his predecessor Rafael Benitez as the pair both have 6 wins and 2 draws in their first 8 fixtures in charge of Real.
As this is probably going to be the toughest game since he has taken over the job, Zidane will be desperately trying to prove himself in this big game and keep Los Blancos's title hopes alive.
Liverpool vs Manchester City live streaming
Liverpool vs Man City: watch & bet live here >>
A long waited Capital One Cup Final will be played at Wembley by Liverpool and Manchester City.
Both clubs have won the League Cup in recent years with Liverpool as the winner in 2012 and City being crowed in 2014.
Having won their last 2 encounters both in 2015, The Reds are confident to bring the trophy home and end their trophy drought since 2012.
Despite a 5-1 defeat by Chelsea at Stamford Bridge in last Sunday's FA Cup, Manuel Pellegrini rested most of his key players and will be going all out at Wembley.
Will City's FA Cup sacrifice pay off? Let's see.
Juventus vs Inter live streaming
Juve vs Inter: watch & bet live here >>
Bologna ended Juventus' 15 consecutive wins in the league last weekend.
However, The Old Lady still remain 16 league games undefeated.
Apart from their domestic domination, their 2-2 comeback draw against Bayern Munich in the Champions League Round of 16 last midweek showed to the world that they are one of the best teams in Europe.
Having just lost 3-0 to current league leaders Juventus in the Coppa Italia Semi-final 1st leg in January, it will be a tough job for Inter to stop the inform Dybala, Pogba and take any points away from the Juventus Stadium, this won't be an easy task.
* A funded bet365 account is required for access. Exclusion list apply.