ComboBets.com is the best place on the web for winning football predictions, previews, and soccer bet slips!
Every week our experienced pro tipsters take a detailed look at:
the fixture list,
the soccer statistics,
the head-to-head records,
the xG results,
the likely line-ups and tactics,
the news.
And of course, use a bit of personal opinion to bring you the best football tips!
If you like our service and tips, please get us a beer 🍺
Editor's Choice – the world of winning bets!
In the 'Editor's Choice' we group our best forecasts in:
Bet of the day (Combo) – sure predictions
This is our top choice of the best soccer predictions of the day!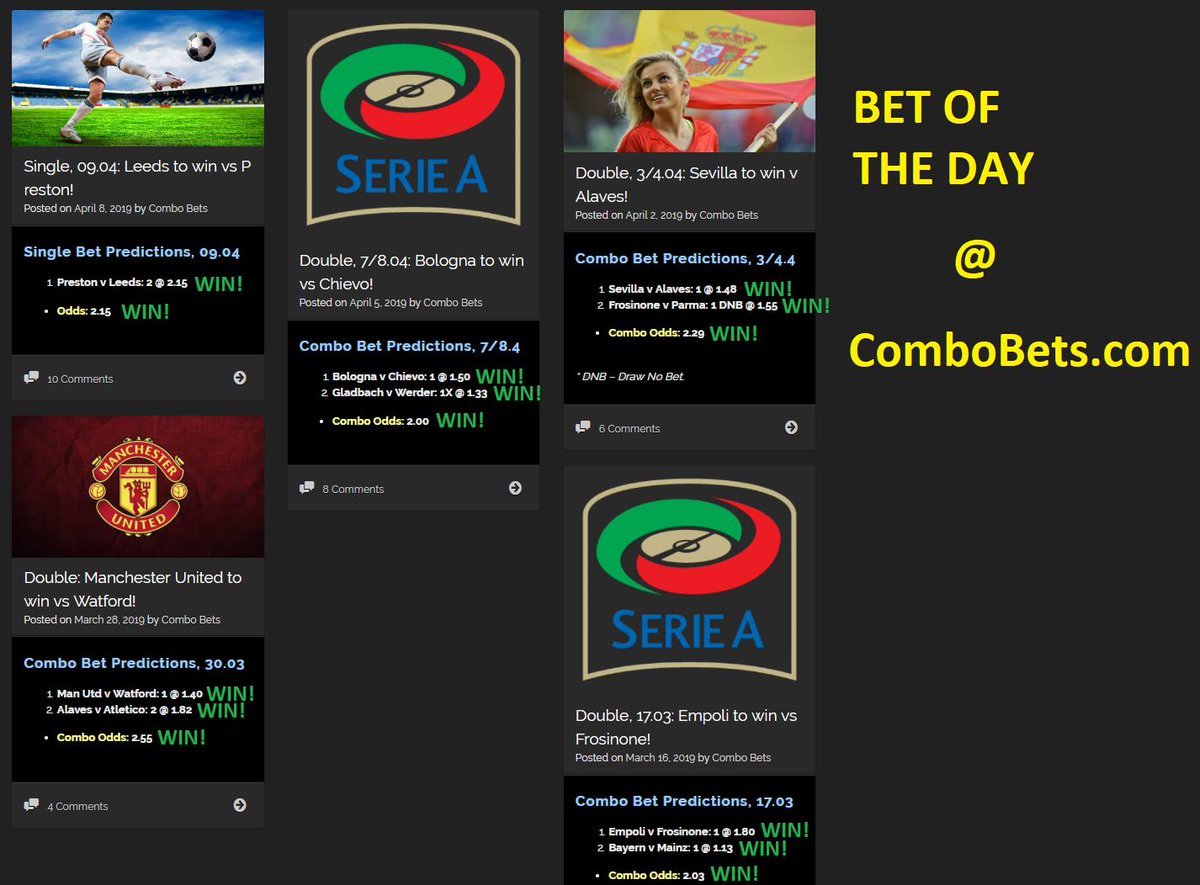 Bet of the day can be a single, double (2-fold) or treble (3-fold).
Accumulators and combi-bets allow you to bet on multiple outcomes for different events, multiplying the potential rewards! And we – the pro tipsters at ComboBets.com – will help you broaden your betting winnings by going beyond the one selection opportunities offered by singles.
The accumulators allow 2 or more selections to be linked into a single wager at higher odds. Than would be offered if the bets were made separately. Also, the minimum wager required for an acca is less than what's needed for placing individual bets.
System bets – predictions with high odds
One of the ways in which experienced handicappers make wagering more exciting, and potentially more profitable, is by making multiple bets on a series of selections. This so-called 'combination betting' (or System Bets) helps reduce risk while maximising potential gain. What's more, unlike an accumulator (parlay) or single bet, the stake is not entirely lost if a single selection fails.
Combo bet vs System bet – the difference
So the main difference between system bets and multi bets (Accas) is that you can win a system bet even if not all your picks are correct. For example, in the case of a 2/3 system bet, you win even if only 2 of your 3 predictions turn out to be correct.
Bets record
Although we are damn good, we do not claim to have a 100% winning record for our football previews and football betting tips – that would be impossible as strange things happen in football.
Gambling is a game of percentages, we get way more winners than losers and always have a profit come to the end of the month. See our last wins & bets.
Also, read: Winning bets at 101.35 total odds in just 2 days!
Despite our successful history, we are only here as a resource and it is up to you how you use our advice.
Discover the world of winning bets across multiple selections with ComboBets.com!
Cheers!
ComboBets.com Team